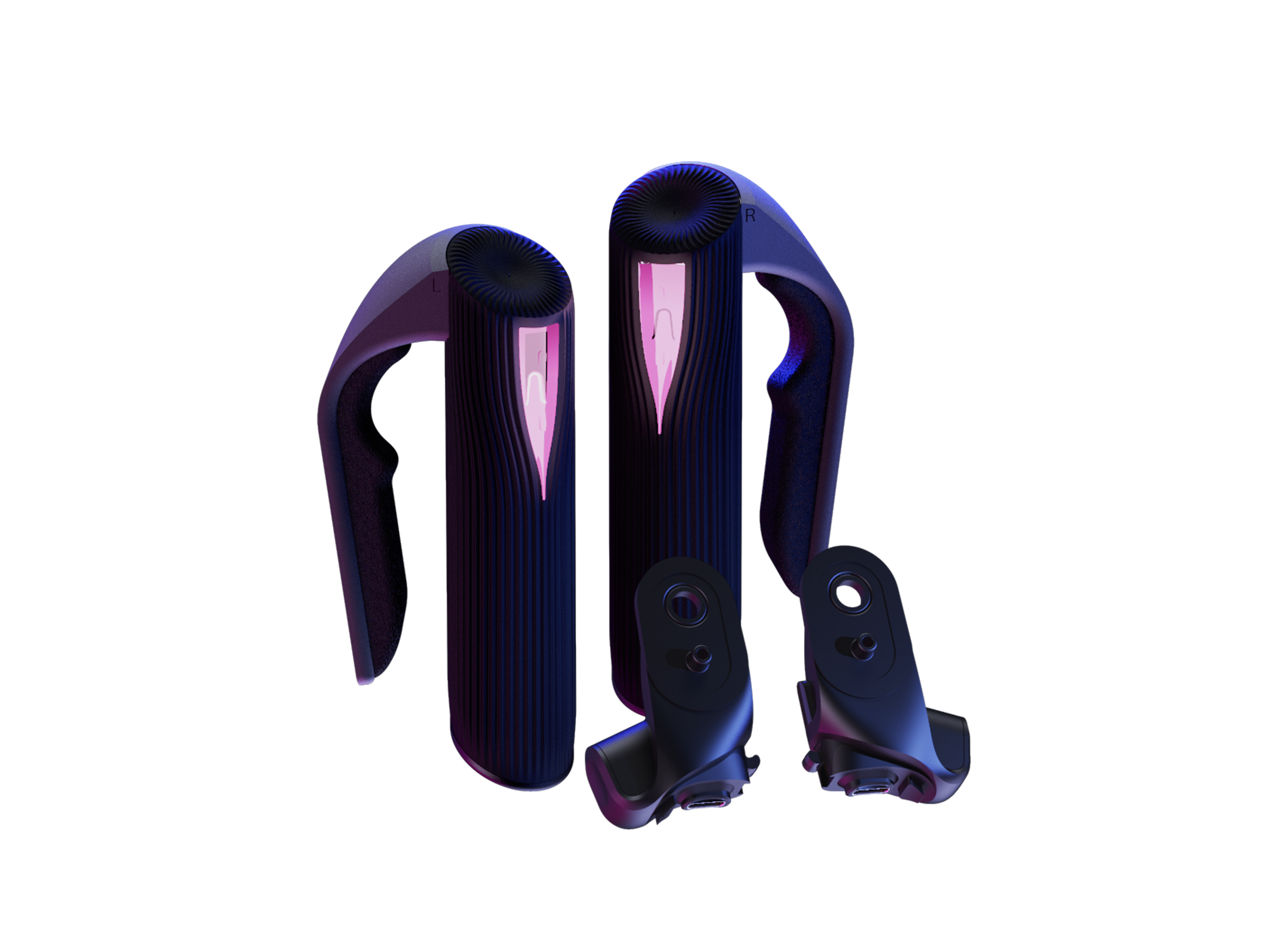 eteeController AdaptVR Kit
PRE-ORDER now.
(Orders placed from 6/4/2023 will be shipped in Q3 2023)

Unlock Boundless Possibilities.

Elevate your VR experience with the eteeController AdaptVR Kit. Seamlessly connecting your compatible tracker with the cutting-edge eteeController via the innovative eteeAdapter, this kit revolutionizes your interaction possibilities. Effortlessly transform your no-input tracker into eight analog input finger-tracking controllers. With included cables, the eteeController charges both itself and your tracker, ensuring uninterrupted exploration.
This kit offers the same accessibility as the eteeController SteamVR Kit, delivering exceptional control and responsiveness. Step into the immersive world of SteamVR with the eteeController AdaptVR Kit and redefine your virtual reality journey.

Product features
Full-finger sensing technology
3 degrees of freedom IMU in eteeController
Lightweight and ergonomic design
SteamVR Compatible
6 hours playtime
Default gestures: Point / Pinch / Grip
Compatible with VIVE Tracker 1.0, 2.0, 3.0, Tundra Tracker for 6 degrees of freedom
What you get?
eteeController, Left and Right
1 eteeDongle
2 USB-C charging cables
3 foam sizes, 2x S/M/L
eteeAdapter, Left and Right
2 USB cables (USB-C to USB-C)
2 USB cables (USB-C to USB Micro-B)
2 D-ring
Size:

• eteeController

5.3*2.3*1.18 in

136*69*30 mm




• eteeAdapter

2.33*1.51*1.17 in

59.1*38.3*29.8 mm

---

Weight:

• eteeController

2.89 oz

82 g




• eteeAdapter

0.41 oz

11.6 g

---

Battery:

---

Charging:

---

Connectivity:

• eteeController

BLE with dongle

USB-C




• eteeAdapter

USB-C

---

Technology:

Patented touch-sensing system

---

Operating System:

---

Compatible VR Tracker:

• VIVE Tracker

1.0, 2.0, 3.0

• Tundra Tracker

---

Developer Resources (APIs):

---

Required VR Hardware:

• Virtual Reality ready PC

• SteamVR compatible headset

(Pimax and headsets with inside-out tracking systems are not compatible.)

• Base stations

(VIVE Base Station 1.0, 2.0, or Valve Index Base Station)